I&M Bank Kenya partners with global banking software provider Backbase to launch omni-channel platform for digital banking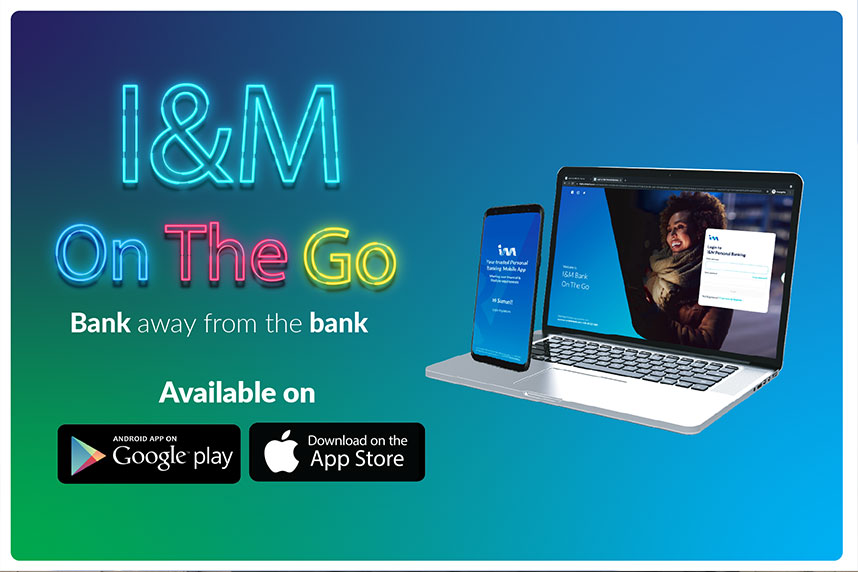 Press Release
For Immediate Release
I&M Bank Kenya partners with global banking software provider Backbase to launch omni-channel platform for digital banking
Nairobi, October 15, 2021: As part of its strategic intent to bolster its customers' access to digital banking services, I&M Bank Kenya has partnered with global digital banking software provider Backbase, making it the first bank in the region to leverage on this award-winning omnichannel digital banking platform to enhance the bank's digital banking experience and offerings.
Dubbed I&M On The Go (OTG), the platform will support customers to access all the bank's products and services in real-time through mobile banking and internet banking. In addition, it will allow them to transact through the bank's website, mobile app, call centre and the bank's branches. "COVID-19 has accelerated the shift to digital banking like never before. The launch of the On The Go (OTG) platform consolidates our investment around customer needs. We are certain that through leveraging Backbase's platform, I&M Bank will navigate the new normal with speed, customer focus and a distinct advantage for the future," said Kihara Maina, CEO at I&M Bank. The Bank is on a transformation journey, and through its iMara 2.0 strategy, it has placed digitisation as a key enabler for business growth in the Personal and MSME banking segments. Further, it is looking to strengthen its position in Corporate and Institutional banking. Through the rollout of various products and services that are accessed and delivered digitally, as with the OTG, I&M Bank is looking to expand its business reach as well as diversify revenue sources through its chosen customer segments. "We are proud to offer our solution to I&M Bank. We believe that this solution will provide an enriched banking experience to the bank's customers in line with the bank's priority of giving premium focus on digital technology. We are pleased to support I&M Bank in this journey", said Matthijs Eijpe, Regional Vice President, Backbase. Backbase was named a leader in The Forrester Wave: Digital Banking Engagement Platform Q3 2021 and in The Forrester Digital Banking Engagement Hubs Q3 2021 reports. The Forrester Wave uses a transparent methodology to compare players in software, hardware, or services markets, helping organisations to make informed decisions on which digital technology to take advantage of. I&M Bank is the first bank in Kenya to use this platform. The platform will offer an enhanced banking experience and convenience for I&M Bank customers. Also, it will also empower them with information and insights to make better financial decisions. This move is a key milestone in the bank's broader quest to optimise its operating model by enhancing efficiency and providing clients with the right digital solutions. The platform has been spearheaded by the Bank's digital factory, iCube, which has embraced Agile practices in fostering the Bank's digital transformation journey. "In the fast-paced growth of the tech-enabled economy, we are pleased to offer convenience to our esteemed customers who can manage their banking engagements
"On the Go"
amidst their busy schedules. This rollout is a continuation of our efforts and commitment to providing customers with convenient financial solutions through the provision of excellent products and services, as well as to reward them for choosing I&M Bank as their trusted banking partner," Kihara Maina added. The bank's clients will view their accounts details and transactional activities through the platform and will seamlessly initiate payments and money transfers. Also, they will be able to make utility payments to various companies and preview and download monthly statements. In line with the bank's efforts to continue delivering innovative digital solutions that enhance customers' banking experience, the bank will leverage the system's capability to roll out additional banking solutions such as digital lending in the near future, which will target its Personal and MSME clients.
Notes to the Editor
About I&M Bank Limited
I&M Bank is a leading commercial bank headquartered in Kenya, with a growing regional presence currently extending to Mauritius, Tanzania, Rwanda and Uganda. Since its inception in 1974, the Bank has evolved from a community financial institution to a publicly listed Kenyan-based regional commercial bank offering a full range of Corporate, Business, Premium Client and Personal banking services. I&M Bank is wholly owned by I&M Group PLC which is listed on the Nairobi Securities Exchange. CDC Group PLC owns approximately 10.68% of I&M Group PLC. I&M prides itself on its strong values and key strengths of innovative service and strong customer relationships and through these pillars, I&M Bank aspires to be
Kenya's Leading Financial Partner of Growth
through the provision of innovative and market-driven banking solutions for its target segments. For more information visit
www.imbank.com
.
I&M Bank Media Contact
Suprio Sen Gupta Group GM, Products and Marketing Ssengupta@imbank.co.ke + 254 719088204
About Backbase
Backbase is on a mission to transform the broken banking system, so financial institutions don't just interact—they engage—with the people they serve. That's made possible with the Backbase Engagement Banking Platform—powering all lines of business on a single platform, including Retail, SME & Corporate and Wealth Management. From digital sales to everyday banking, the platform's entire design focuses on a seamless and captivating experience for both customers and employees. Industry analysts Ovum and Celent continuously recognize Backbase's front-runner position, and over 120 large financials around the world are powered by the Backbase Engagement Banking Platform—including AIB, Barclays, Banamex, Bank of the Philippine Islands, BNP Paribas, Bremer Bank, Islands, Citibank, Citizens Bank, CheBanca!, Discovery Bank, Greater Bank, HDFC, IDFC First, KeyBank, Lloyds Banking Group, Metrobank, Navy Federal Credit Union, PostFinance, RBC, Société Générale, TPBank, Vantage Bank Texas, Westpac, WSECU and Wildfire CU. www.backbase.com