I&M Bank Launches a New Relocated Branch in Arusha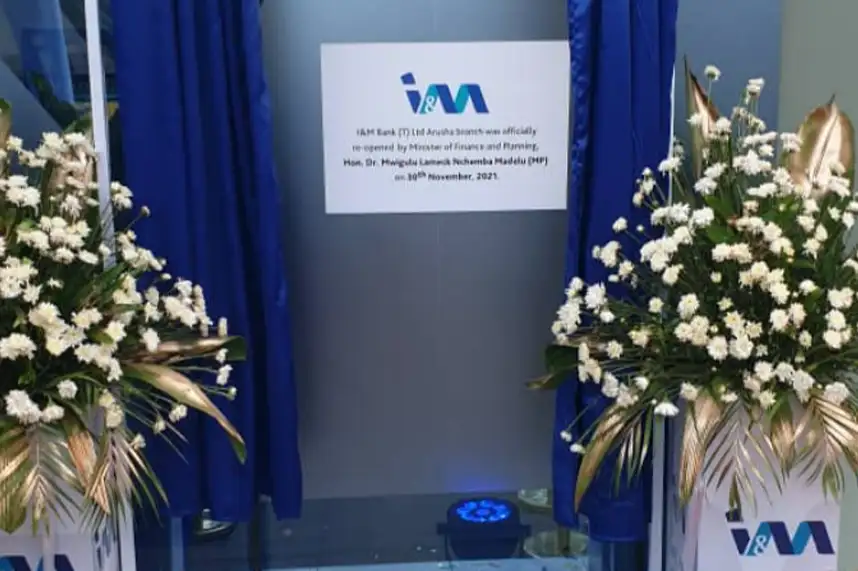 I&M Bank Launches a New Relocated Branch in Arusha. Customers to enjoy convenience with a range of customized services including select Banking for affluent clients
Arusha. 30th November 2021. I&M bank customers in Arusha will now enjoy convenience through the newly relocated branch with state-of-the-art features including the Select Banking lounge for the affluent clients.
The branch was launched by the Minister of Finance and Planning, Hon. Mwigulu Nchemba was witnessed by a representative from  Bank of Tanzania (BoT), Emmanuel Akaro, from the Directorate of Financial Sector Supervision on Tuesday 30th November at the new building premises.
Speaking during the opening ceremony, the Bank Chief Executive Officer, Baseer Mohammed said the move aimed at ensuring easy accessibility of the bank's services to the customers in the region.
"This initiative aimed at bringing convenience to our customers since the new branch is in the city center offering easy accessibility. This branch has state-of-the-art features including the Select Banking Lounge that will serve the affluent clients, modern facilities, and safe deposit lockers, bureau de change, etc. this is all to ensure that our customers are enjoying the banking experience while visiting our newly relocated branch" he said.
The bank has so far opened 8 branches located in Dar es Salaam, Mwanza, Kilimanjaro, and Arusha and would be expanding to more strategic locations. The bank has been a pioneer in driving the digital strategy agenda in the country with the introduction of unique products like WhatsApp Banking, Kamilisha (Digital Lending), and Multicurrency VISA prepaid Cards.
There has been an increase of total assets of the bank by 11.2% on a year-on-year basis recording TZS. 567 billion by end of October 2021.  During the year the Net advances increased by 12.3% and customer deposits by 19% so far. The Bank has been consistently delivering profit over the years.
The branch is now situated at Goliondoi Street-Sunda Plaza from Jakaranda Street-Falcon Building where it was located before. The new strategic location is expected to speed up business operations in the region.
The Minister of Finance and Planning commended the move by the bank arguing that it will boost economic activities among residents and foreigners who are mostly tourists.
"Banking services are very essential in national economic growth; this initiative is a clear sign that the sector is stable and continues to grow every day. Having this modern branch here will speed up business movements, tourism activities, and most importantly revenue collection," he said.
The Minister also appreciated the bank for introducing Select Banking Service for affluent clients saying that it will boost business operations given the nature of the region that is full of business activities like tourism and mining.
"We have also launched a bureau de change that will be available for long hours to allow Arusha residents and tourists to get the service anytime. Also, we are Safe Deposit Lockers service will help customer to safely keep their valuables and documents," marked Lilian Mtali, the bank's Retail banking Manager.