I&M Bank Records Rwf13.4 billion Pre-tax Profit in 2022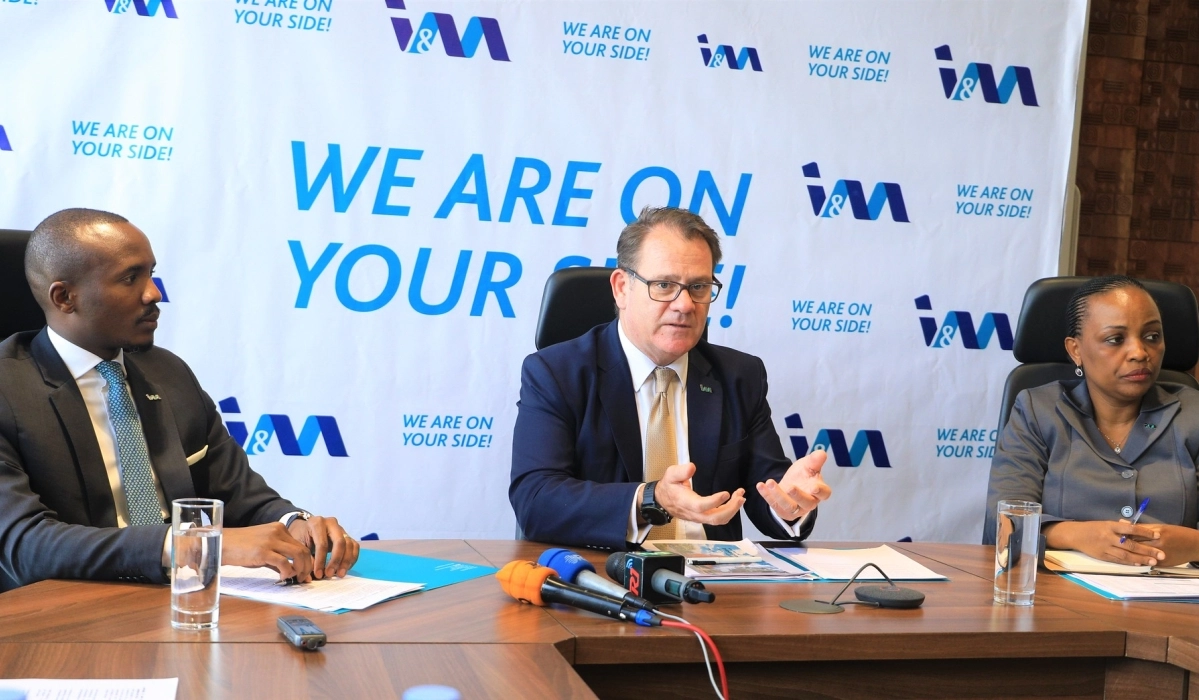 I&M Bank Rwanda Plc registered Rwf13.4 billion profit before tax in 2022, representing a 22 percent increase in profitability from Rwf10.9 billion reported in 2021.
According to the lender, the growth is a demonstration of efforts geared towards overcoming the environment of successive socio-economic headwinds.
The Bank reported Rwf42.4 billion in net revenue, a year-on-year increase of 27 per cent, driven significantly by an increase in net interest income of 19 per cent on the back of the loan book growth, revenues from the money market and securities trading and cost of funds management.
Fees and commissions increased by 20% year-on-year on the back of the proper execution of revenue-generating strategic initiatives and continued growth in digital transactions.
Revenue from foreign exchange activities grew by 25% supported by the increase in volume.
In the period under review, operating expenses increased to Rwf25.6 billion from Rwf20.7 billion due to an increase in revenue, growth in business lines and continuous investment in information technology.
The loan book grew by 4 percent to Rwf231.7 billion from Rwf222.4 billion in 2021 with the support of new deals across all bank's segments and improvements in credit quality with the NPL ratio well managed at 4.2 percent.
This is while customers and other financial institutions' deposits closed at Rwf357.4 billion, resulting in a loan-to-deposit ratio of 63.2 percent.
Overall, the lender's profit after tax in 2022 stood at Rwf9.3 billion.
Commenting on the performance, Robin Bairstow, the CEO of I&M Bank, said it is a demonstration of the wider I&M Group's ability to manage various economic challenges while capitalising on growth opportunities and leveraging digital capabilities to provide exceptional customer experiences.
He said: "We remain dedicated to delivering on our promise to be a dependable and trusted financial partner for growth while skilfully navigating through challenging macroeconomic headwinds with resilience and soundness."
They continue to see good progress across the bank's performance metrics, which remain in line with their focus on driving sustainable growth.
While the Central Bank reported an increase in interbank rate to 5.9 percent in 2022 from 5.1 percent in 2021, Bairstow noted that the bank had not seen any impact on its lending rate to customers, rather, it accumulated the cost.
Dederi Wimana, Chief Finance Officer, I&M Bank, noted that based on the financial performance in 2022 which yielded earnings per share of Rwf 6.13, the Board of Directors recommended the payment of Rwf1.84 dividends per share, a 55 percent increase compared to the previous year.
This is to be approved during the Annual General Meeting of shareholders.
Bonaventure Niyibizi, I&M Board Chairman, said: "As a Board, we are committed to creating long- term value for all stakeholders, including customers, shareholders, and the broader community we operate in. We believe sustainable and inclusive growth is the key to achieving this goal, and we remain dedicated to this principle."
In 2022, the Gender Monitoring office awarded I&M Bank the Gender Equality Seal and, for the second year in a row, it scooped the Best Bank in Rwanda award by Capital Finance International (CFI).
"These recognitions are an acknowledgement of our commitment to promoting diversity, inclusivity, and excellence in all our operations. We will continue investing in our people, technology, and communities to build a better future for all," Bairstow noted.
In addition to that, he noted that the good performance derives from the commitment and welfare of the bank's staff not only financially but also from taking care of their mental health, in collaboration with M-hub, to further boost their productivity.
Outlook for 2023
Bairstow further added that they are on track to achieve the iMara 2.0 strategy which we are on track to achieve.
"We are optimistic about the outlook for the banking industry as we have grown solid capital ratios, a strong balance sheet and sound liquidity positions despite geopolitical and macroeconomic headwinds."
He added: "We believe that our focus on small and medium-sized businesses, wealth management, and digital innovation will position us well for success. To support this growth, we will continue investing in technology to enhance our customer experience and improve operational efficiency."