I&M Visa Infinite Credit Card
Welcome to the world infinite possibilities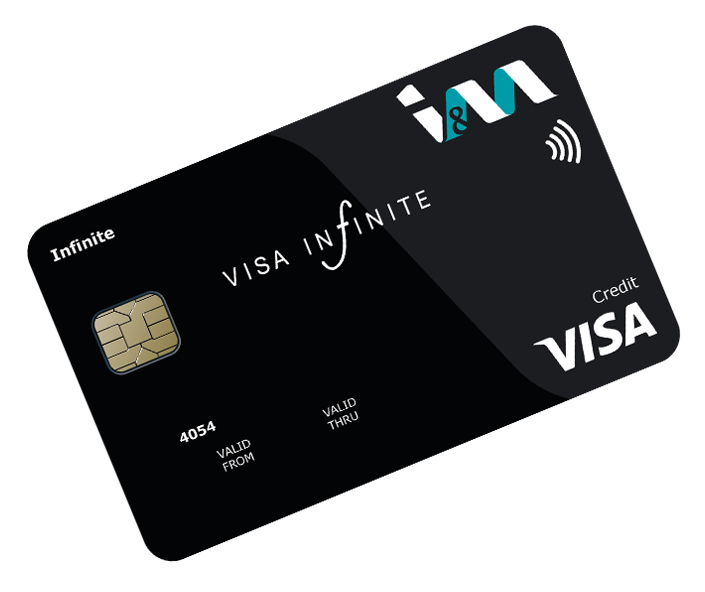 I&M Visa Infinite Credit Card
Welcome to the world's infinite possibilities with the I&M Visa Infinite Credit Card that offers you unparalleled services and privileges locally and abroad.
I&M Bank Benefits
Attractive Reward Points

Earn 0.75% of your spend amount when you transact on POS (Point of Sale) or online shopping. 1 Point = 1 Kes

Security

Secure online transactions using Verified by Visa authorization code || SMS alerts for all transactions.

Supplementary card

You can share these wonderful features with your loved ones too. We offer the facility of a supplementary card for your spouse, children, or parents.
Visa Infinite Benefits
Travel: Get access to unlimited airport lounge access to more than 1,200 LoungeKey lounges globally the more you spend via your Visa Infinite Credit Card.To view the lounges available visit https://www.loungekey.com/en. View the FAQs here: https://bit.ly/43b7OTl
Travel: Insurance | Visa Infinite provides you with comprehensive travel insurance benefits when you purchase travel tickets or make hotel reservations with your Visa Infinite card.
Lifestyle Concierge Services | Flight reservations | Hotel reservations | Restaurant reservations | Car rental reservations | Event ticket purchases | Trip planning | Other general requests
Shopping: Purchase Protection When paying with your Visa Infinite card, you will benefit from purchase protection for stolen or damaged goods purchased.
Travel: Global Emergency Assistance | If you lose your Visa Infinite card, Visa can block your account, send a replacement card and provide emergency cash.
Travel Insurance: You can qualify for up to $1 million in Emergency Medical Expenses cover, for you and your travel companions as per Visa Multi-trip Travel Insurance Terms and Conditions.
Shopping: Extended Warranty Making purchases with your Visa Infinite card also entitles you to an extended warranty benefit that extends the original manufacturer's warranty for an item purchased up to 24 months.
Worldwide Acceptance Accepted at over 23 million merchant establishments around the world and over 1.9 million Visa ATMs worldwide in 180 countries.
Medical & legal referral: We provide support to cardholders in unfamiliar territory Visa Infinite cardholders can travel the world knowing their elite status will keep them protected. This benefit offers: Telephone medical advice | Medical service provider referral | Monitoring medical condition pre and post hospitalisation | Essential medicine and equipment delivery | Dispatch of physician to cardholder location | Medical evacuation and repatriation | Legal referral | Interpreter referral
Multi-Trip travel insurance: Visa Infinite and Signature cardholders will travel with peace of mind knowing they are covered for the uncertain An online portal and claim tracker will enable cardholders to: Enter their 16-digit card number for identification in order to access benefit details. Please note that this card number is not stored. | Access and download their insurance T&Cs | Complete Certificates of Insurance for travel visa purposes | Confirmation of coverage for travel | Submit their claim | Check the status of claims submitted
Agoda.com: We connect Visa cardholders to discounts via a seamless online booking platform Agoda.com is one of the top three global online hotel booking sites that offers a seamless user experience while providing superior hotel coverage, the lowest rates available online, unmatched availability and access to exclusive real-time promotions.
We provide cardholders with access to various luxury hotel deals VLHC includes over 900 intriguing and prestigious properties. All properties, ranging from boutique gems to world-renowned hotels, provide a premium collection of benefits specially designed to offer an unparalleled experience.
Avis Car Rental: Discounts & privileges at Avis for all Visa cardholders Avis Car Rental is one of the world's top car rental brands with an exceptional global footprint.
Extended Warranty & Buyers Protection: Buyers Protection provides Visa Infinite cardholders with additional security when buying an eligible item. By using the Visa Infinite or payment device to purchase eligible items, either in-store or online. cardholders will receive complimentary Buyers Protection Insurance. This offers cover for theft, accidental damage, or non-delivery of eligible purchases as subject to the terms and conditions of the policy.
Visa benefits brought to you through one digital platform. Access to benefits available via a single digital platform: www.visacards.africa
Credit Card Payment
To pay using Mpesa Pay Bill, follow the below instructions: - Go to Mpesa Menu, Lipa na M-PESA - Select Pay Bill - Enter the Business no "872649" - Enter Account Number "Your 16 digit Card Number" - Enter Amount - And finally enter your Mpesa PIN to complete the transaction.

To pay using Mpesa Xpress - Go to "Online Services" on the Home Page, Select M-PESA Xpress and follow the following instructions - Enter the full 16 digit Credit Card Number and amount to pay - Enter your Phone number - You will then receive a pop up on your phone requesting you to enter your Mpesa PIN to complete the transaction (Make sure your mobile device screen is unlocked)
Card Tariff and Charges
Joining Fee

Supplementary Joining Fee

Annual Fees

Supplementary Annual Fees

Credit Period

Roll-over Amount

Minimum Payment

Cash Advance

Revolving Credit Interest

3.5% per month on actual daily outstanding balance

Late Payment Penalty Rate

6% flat on outstanding amount

Over Limit Charge

Cash Advance

Unpaid Instruments Handling Fees

Card Replacement Fees

Credit protection
Terms and Conditions
Some of the features described above may be amended, varied or unavailable at some point in

Issuance of Visa Infinite Card is at the sole discretion of the Bank.

Card issuance is subject to Terms and Conditions of I&M Bank International Visa Infinite Credit Card
Want to apply for Credit Card?
Download the below form and submit to the nearest branch with the required documentation.
Are you interested in I&M Visa Infinite Credit Card?